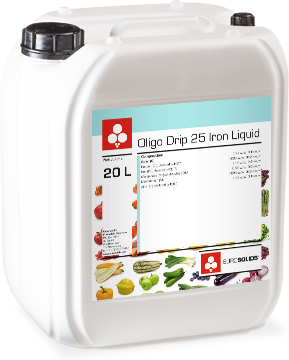 Eurosolids Oligo Drip 25 Iron Liquid is a pure and highly concentrated liquid micronutrient fertilizer with 2,1% of Iron. It is a mix of EDTA chelated micronutrients. Our product is a stable solution and is recommended at different phenological stages. The high level of micronutrients in our formula improves plant vitality and production.
Overcomes general Micronutrient defiencies
Micronutrients 100% chelated and fully available up to a pH of 9 (Iron up to a pH of 6)
Easy to handle and apply
Developed for foliar application. Also suitable for fertigation in open field and greenhouses
Soft for leaf tissue
Low on heavy metals
Brown liquid
General dosing instructions
Eurosolids Oligo Drip 25 Iron Liquid can be used for foliar application, fertigation in open field as well as fertigation in soilless greenhouses.
Exact dosage, concentration and application stage are subject to local conditions, use of other fertilizers and can only be given after an objective diagnosis. Please do contact your local representative for more information.
Preparing your downloads, please wait...
Compatible with other fertilizers. The pH of the tank solution should be above 4.