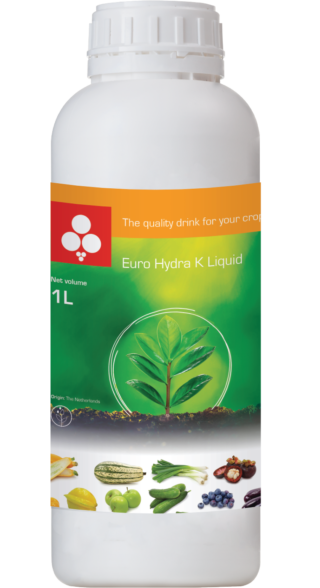 Euro Hydra K Liquid is a biostimulant solution for enhancing crop performance by improving Water Use Efficiency (WUE) and Crop Quality. Euro Hydra K Liquid has been developed for fruit orchards and vegetables,
but can also be used on various arable crops. Thanks to the potassium carboxylates in the formula, Euro Hydra K Liquid counteracts the effects of drought and heat by enhancing the water uptake and improving the water
balance status in the plant. In addition, Euro Hydra K Liquid stimulates and induces a higher final quality, in particular coloration and firmness. Many years of trial results have confirmed these biostimulation effects,
even in years with sufficient irrigation/rainfall. Euro Hydra K Liquid is the quality drink for your crop!
Increases plant tolerance to drought and heat
Improves plant WUE (Water Use Efficiency)
Neutralizes the molecules responsible of cell damage during drought and heat stress
Enhances fruit coloration
Induces additional sugar formation and translocation
Ensures higher fruit firmness
Highly concentrated solution
Colourless liquid
Production process certified according to ISO 9001:2015
Formulated without Chlorides, Nitrates and Sulfates
Easy to handle and apply
Foliar Application
* depending on variety
Spraying concentration: 0.5-1% with a maximum of 1.5% on perennials.
Preparing your downloads, please wait...
Compatible with other fertilizers. The pH of the tank solution should be above 4.
Fertilizing Knowledge
Euro Hydra K Liquid: the quality drink for your crop!
Water Use Efficiency (WUE) and crop quality are big concerns for dryland farming, in semi-arid areas as well as in irrigated lands. Making the most of the water resources in a more clever way is becoming a mandatory challenge. Euro Hydra K Liquid is an innovative foliar solution with biostimulation effect, developed to support growers in facing today's agricultural challenges. It is a one-of-a-kind solution, improving both Water Use Efficiency and Crop Quality.
Find out more