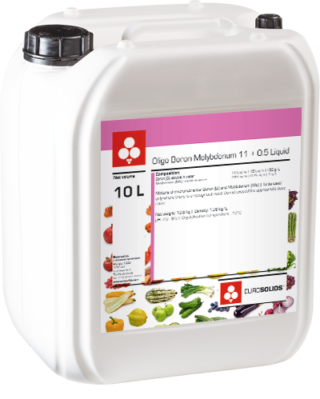 Eurosolids Oligo Boron Molybdenum 11 + 0.5 Liquid is a pure and highly concentrated liquid fertilizer. Formulated from Boron Ethanolamine and molybdenum, the product is a stable transparent to yellow solution. Boron is a major micronutrient needed by a wide range of crops to achieve optimal performance. It plays a crucial role in flowering, fruit setting and increase sugar and oil content in the harvest.
Thanks to the ethanolamine complexation, the product is soft on leaves and effective in foliar application.
Recommended in vegetative stages prior to generative phases, it can also be applied prior to flowering and in post-harvest treatments.
The extra Molybdenum in the solution gives the product additional properties which help in reducing nitrates and controlling excessive vigor, which often reduces yields.
It overcomes stunted growth and increases drought and heat tolerance
Easy to handle and apply
Developed for foliar application and fertigation
Soft for leaf tissue
Highly concentrated solution
Preparing your downloads, please wait...
Compatible with other fertilizers.