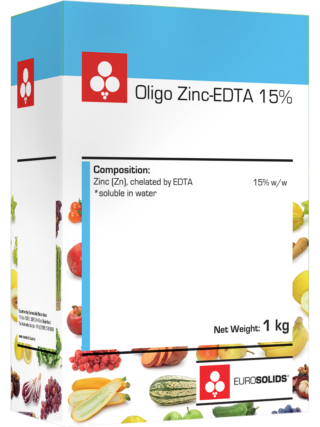 Eurosolids Oligo Zinc-EDTA 15% is a chelated single micronutrient fertilizer of high purity. Thanks to its unique patented raspberry-shaped microgranule, it is dust free, easy flowing and it dissolves rapidly. It is recommended to cure Zinc deficiency on all crops, and to improve initial growth periods.
Zinc 100% chelated and fully available up to a pH of 9
Developed for foliar application. Also suitable for fertigation in open field and greenhouses

Rapidly dissolvable at high concentration
Low in Chloride
Raspberry shaped, white micro granule
Patented micro granulation process
Easy to handle, dissolve and apply
Hydroponics
Fertigation
Foliar Application
Preparing your downloads, please wait...
Compatible with other fertilizers. The pH of the tank solution should be above 4.
Fertilizing Knowledge
Our producers of Micronutrients
In the field of research and development, highly qualified engineers are constantly working on innovative technologies and products, which allow to bring new alternative chelated Micronutrient solutions to the market.
Find out more