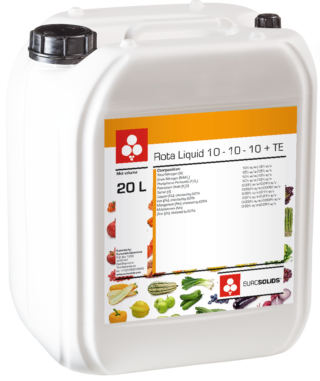 Eurosolids Rota Liquid | 10 - 10 - 10 + TE is a pure and concentrated balanced NPK combined with EDTA chelated Micronutrients and Ureic Nitrogen. Our product is a transparent, stable solution and is recommended as a multi-purpose complement solution with balanced Nitrogen, Phosphate and Potassium formulas, destined to support the vegetative growth and early production stages. Having a balanced nutrition is crucial to ensure proper transition between establishment and production phases. Produced in our own plant Euroliquids.
Improves vegetative growth and gives high quality buds and fruits
Better shoot development
Micronutrients 100% chelated and fully available
Developed for foliar application. Also suitable for fertigation in open field and greenhouses
Green liquid
Low on heavy metals
Low on Sodium and Chloride
Low crystallization temperature
Production process certified according to ISO 9001:2015
Fertigation
Foliar Application
Preparing your downloads, please wait...
Compatible with other fertilizers, with the exception of Calcium fertilizers. Therefore a separate tank is needed or fertilizers should be applied on different times. The pH of the tank solution should be above 4.
Fertilizing Knowledge
Our Liquid fertilizer factory
Our sister company Euroliquids, conveniently located in the port of Rotterdam, is the largest liquid fertilizer factory in Northern Europe. This is where we produce our high quality liquid fertilizers and work on developing innovative new recipes.
Find out more