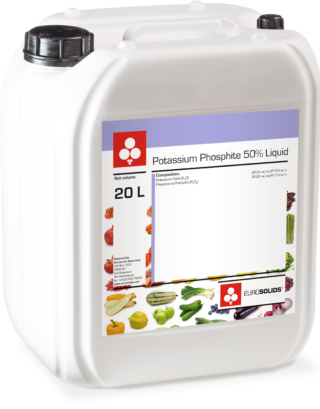 Eurosolids Potassium Phosphite 50% Liquid contains a high level of Phosphate (30% w/w) in Phosphite form. In this form, P will increase general plant vitality and resistance to stress. Developed to fertigate in soil grown covered crops and hydroponics as well as for foliar application. Also suitable for dipping plant roots prior to transplanting. Produced in our own plant Euroliquids.
Import possibilities for Potassium Phosphite varies by country. Please check your local authority to learn more about regulations.
Transparent liquid solution of high purity
Improves general plant immune system
Enhances root growth
Production process certified according to ISO 9001:2015
Highly concentrated solution
Low on Sodium and Chloride
Low on heavy metals
Fertigation
Foliar Application
Dipping of plantroots
Dip the naked roots of young plants in Eurosolids Potassium Phosphite 50% Liquid just before planting. It makes the plant stronger and will result in increased initial growth just after planting, the most critical period of the entire crop.
Plants should be dipped 20 - 25 minutes until the heart of the leaves in a 0.2 - 0.5% concentration.
Preparing your downloads, please wait...
Compatible with other fertilizers, with the exception of Calcium fertilizers. Therefore a separate tank is needed or fertilizers should be applied on different times.
Fertilizing Knowledge
Our Liquid fertilizer factory
Our sister company Euroliquids, conveniently located in the port of Rotterdam, is the largest liquid fertilizer factory in Northern Europe. This is where we produce our high quality liquid fertilizers and work on developing innovative new recipes.
Find out more